60 Days of Insanity
My husband and I took some vacations in May and June, including a lot of time with family, so I took a blog break to allow me to mentally recharge and get ready to go. Fortunately, I always plan ahead, so you shouldn't see a blip in the content at Go Dairy Free, even if I am away from the computer for two weeks!
But before we left on our last trip, I spotted Biz's 101 Days of Summer Challenge and opted to join in … a little late of course (they started on May 31). So, I'm deeming my challenge "60 Days of Insanity!" This should put me right in line with their finish date. And, I've set my goals:
Consume our whole CSA every week (it is huge! We get both a fruit CSA and a veggie CSA in the summer but just a veggie CSA in fall/winter). This will force me to cook more meals at home and eat more greens.
Daily walk or bike ride (at least a bit of outdoor time every day!)
Lean up (bring my body fat down so those jeans fit nicely for fall)
AND
Do Insanity (60 day program – starting June 28 for me)
In 2009 I did the P90X program, twice. Once at the very beginning of the year, and once mid-year. It is an awesome program, and I definitely gained muscle mass on my petite little frame, but it left me wondering, "what now?" I sometimes do the P90X videos, but it is really a program, and not one I feel I can do over and over again.
Enter Insanity.
I did start it yesterday, and it did kick my butt! More on the program as time progresses. Is anyone else out there doing this program? I know Katie is, but there must be others!
Here is a quick food & fitness rundown for yesterday for my log:
Insanity Day 1 – 45 minutes of plyo/cardio, high intensity. Heart rate hit 150 to 160 for half of the workout!
4 Mile Bike Ride – Relatively easy one with the husband, just a few hills.
1.5 Mile Walk – With husband
Breakfast came in multiple parts, since I opted to do a 9am workout …
8am – Leftover Roasted Broccoli w/ olive oil and a little nutritional yeast and salt roasted in.
10am – This apricot frosty to get some natural electrolytes back in, sans the ginger this time around.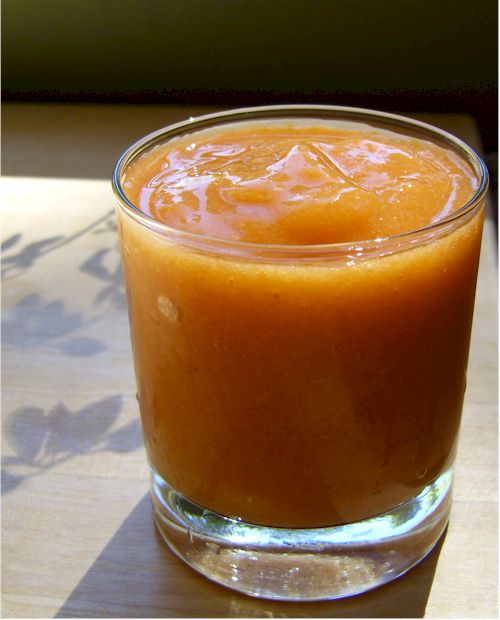 11am – Brown rice cake (love Lundberg's!) with a nut butter made from 1 ounce nuts (half walnuts, half almonds), 1/2 teaspoon maple syrup (1 full teaspoon would be better for my sweet tooth), and cinnamon.
12:30pm – Big Salad with maybe 3 or 4 cups of greens, roasted radishes, half a can of tuna, 2 small carrots, 1/3 of an avocado, and this salad dressing (without the curry, but with some hemp oil added).
Snacks – A few more carrots (love the ones from the CSA!); 1 vegan caramel/chocolate; 1 more apricot
6:30pm – I planned ahead and threw some chicken and CSA potatoes in the crockpot. Ended up eating one roasted chicken thigh, some fingerling potatoes, and a dish I made with caramelized onions and swiss chard (with stems!). It was lightly cooked in olive oil over a low heat for about 20 minutes, add a little balsamic and some salt and pepper and good to go!
Dessert – I baked some super chocolaty cookies, and had 1 nice thick one followed by a small, but very juicy orange.
Overall, I felt good, lots of activity and lots of small meals. In recent years I have migrated toward an overeating mentality – even veggies – so I am practicing going back to my old ways of grazing throughout the day, and not getting too full at once or obsessed with finishing my plate – it can always be saved for later!
Are you a grazer or do you prefer set meals?