Attune 14-Day Chocolate Challenge for a Healthy Tummy
*This contest is closed, but feel free to read my review below*
I do consume probiotics each day, and recently became more diligent about it due to a round of antibiotics, so I was intrigued when I was contacted about Attune Foods. They make chocolate bars infused with probiotics. Hmm, eat chocolate – help tummy; that is a wonderful sounding relationship in theory. How was it in practice?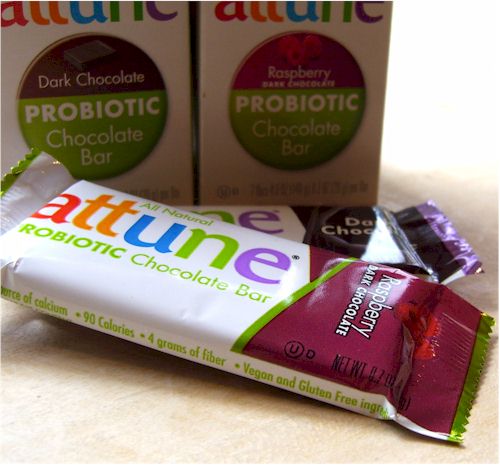 Attune places the following claim on their box: "Try 1 attune bar daily for 14 days – if you don't feel a difference it's FREE." I did feel a difference, and I think the product holds merit, but there are definitely some pros and cons to consider.
Pros:
There is no denying that this is the tastiest way I have ever consumed probiotics. The chocolate is good. Not a fully refined chocolate that will knock your socks off, but one that is smooth and falls somewhere between semi-sweet and dark in taste (I actually thought it was around 60% cacao, but it is 68%), and is easily noshable. It took care of my chocolate fix without a problem. And don't worry, you can't taste probiotics – this is just chocolate.
My stomach was seeing some additional action, so I am pretty sure there is still a good amount of live bacteria (probiotics) in each bar.
I hesitate on putting this as a "pro" because I am not a big fan of fortification and ingredient isolation that has yet to be proven – but, these bars also contain prebiotics in the form of inulin. Prebiotics help to "feed" the probiotics.
Again, I am not a fan of this supplementation, but I know many people are on the hunt for calcium. Each bar is fortified with 30% of the RDA for calcium in the form of calcium carbonate.
The probiotic strains used are reportedly good for immune boosting (L. casei  and L. acidophilus) and easing IBS symptoms (Bifidobacterium infantis).
The bars are a nice size – .7 ounce – well within what seems like a reasonable daily chocolate intake for those who like their antioxidants in cacao form. Each bar clocks in at just 80 calories, with 6g of fat, 3g of fiber, 6g of sugars, and 1g of protein.
I have already seen these chocolate bars in stores (in the refrigerated section of the natural food aisles of my nearest mega grocer – near the dairy-free yogurts) – I am always thrilled by a well-distributed product.
Like many probiotics, it is best to refrigerate these bars to keep those little guys active. However, according to Attune, these bars can be taken to go and be at room temperature for a while without any major losses.
Cons:
This isn't the most cost effective form of probiotics, unless you are planning to eat a chocolate bar each day. Online, the bars are about $1.50 each (a 7-pack lowers the price to $1.34 each); for a serving a day of probiotics, I usually spend less than 50 cents. If you are spending $1 or more a day on a calcium carbonate supplement and chocolate, and this bar fills the void, then it may be a fair value.
Doing the challenge had me eating more chocolate than I normally would. I am not a chocoholic. Most days I have and crave some chocolate, but usually less than 1 ounce will do me, and sometimes I prefer my cacao in smoothie form, in chocolate chip cookies or to sweeten homemade granola bars. Since I was eating this bar everyday without fail, and then sometimes having other chocolate, I felt a bit of a chocolate overload and actually didn't want the bar on some days. I know – probably not a big problem for a lot of people. It just didn't seem like the healthiest or most calorie-friendly way to take my probiotics.
Sometimes probiotics work symbiotically with my gut, and sometimes they have it working overtime with ahem, side effects. These chocolate bars seemed to lean toward the disgruntled tummy side. Perhaps it is the strains utilized.
As a regular daily supplement, this may be a good probiotic source – but don't rely on it for antibiotic recovery. To prevent infection with antibiotics, three probiotic strains are of primary value – S. cerevisiae boulardii, Lactobacillus rhamnosus GG, and Bacillus coagulans– which aren't present in these bars.
Attune claims that their bars contain "5 times the live active cultures in yogurt," but they don't actually state how many live active cultures there are and which yogurt they are making this comparison to. Every brand varies significantly in live active cultures – I just want to know how much is in the bars specifically, and couldn't find that info.
Label Alert:
On the Attune Foods website, there is a notation that indicates "Processed on equipment that has contact with milk products" for the vegan flavors. However, on the bar wrappers themselves they only state "contains soybeans" and "manufactured on equipment that also processes peanuts, tree nuts, and wheat." I was a little taken back by this huge oversight on the wrappers. So milk allergic be aware that these chocolate bars are made on shared equipment with the milk chocolate bars and are probably at high risk for cross-contamination with dairy. Hopefully Attune will fix the labels soon.
I know some dairy-free and vegan consumers are concerned about if the probiotics themselves are grown on dairy. Since these bars are at high risk for cross-contamination with milk in manufacturing, I didn't see the need to probe further on the source of the probiotics. Anyone who has concern about trace milk in a food or supplement should avoid these bars regardless.
For dairy-free foodies, Attune has three vegan/non-dairy flavors (all of their chocolate bars are labeled as gluten-free):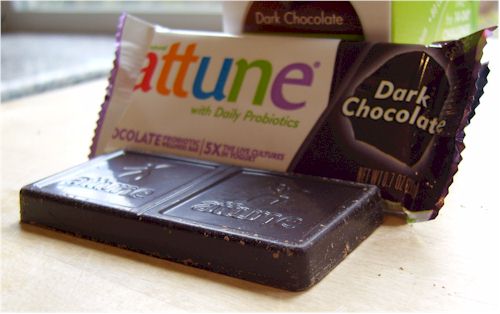 and Coffee Bean Dark. I'm not a big fan of coffee, so I sampled the first two (hence the lack of picture for the third version), which were rather tasty. The raspberry has little bits of dried raspberry throughout for a nice contrast.
Win Some Chocolate!
Now, would you like to take the 14-Day Attune Challenge? Attune has offered to supply one reader with a 14-Day Supply of their Probiotic Wellness Chocolate Bars!
To Enter – Leave a comment here and tell me if you use probiotics, and if you do, let us know your favorite source/brand of probiotics.
For a Second Entry – All email subscribers receive an automatic entry into every giveaway. So sign up now for email updates and always receive an extra entry!
The winner will be randomly selected next week, so be sure to enter by Sunday May 30th for your chance to win!