Cookie (and Chocolate) Cravings
Yesterday, I posted about how proud I was of my self control … like my old ways, I enjoyed mini-meals throughout Monday and was satisfied with one chocolate explosion cookie. Well that was Monday, and I am happy to say that I am human, and completely proud of that too. Yesterday (Tuesday) I had three of these nicely sized babies, and enjoyed every minute …
Fortunately, I am well passed the age of feeling guilty about some awesome cookies! Hmm, perhaps I should type up the recipe to post on One Frugal Foodie soon?
So do you make batches of cookie dough and store them in the fridge? My husband will eat any and all cookies I bake upon sight. So I always make a half batch, stash it in the fridge and make just 4 to 6 cookies a day. So you can expect that I will be baking some more today!
As for the fit part of yesterday, as Albert Einstein once said "The definition of Insanity is doing the same thing over and over again and expecting different results." Well, it seems I added some irony to this statement. Yesterday, I accidentally did the same workout DVD from Insanity again, and yes, I was expecting a different result (because until half way through I thought I was doing a different DVD), and no, I didn't get it. But I still got another day of a very hard workout, so no loss. They call the first "workout" DVD, Day 2, so you can see my confusion with my morning brain on.
Tuesday Fitness:
42 Minutes Plyo/Cardio – DVD 2 from Insanity
2.5 Mile Walk with husband
8am – Leftover swiss chard (sans potatoes) from Monday's dinner to keep the stomach light for the workout. I'm finding a little bit of veggies actually work well then.
10am – 2 apricots and a brown rice cake with a thicker layer of "frosting" – 1/2 ounce almonds, 3/4 ounce walnuts, pinch salt, dash cinnamon, 1 teaspoon maple syrup. Seriously, this is one of my favorite comfort foods.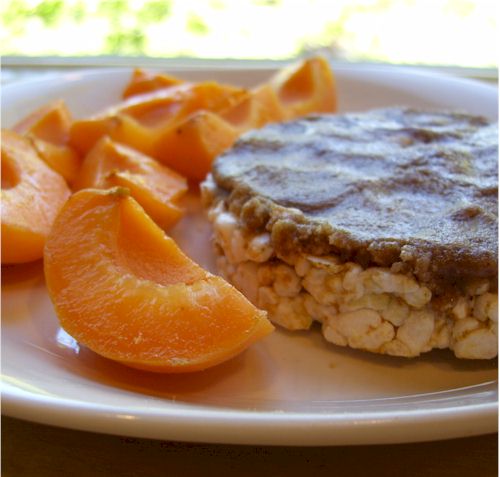 12:30pm – Big salad with three cups mixed greens, a cup or more of steamed snap peas, a couple sliced raw carrots, a wee bit of leftover chicken, 1/3 of an avocado, and some homemade peanut dressing. I toss this all together to taste: peanut butter, rice vinegar, maple syrup, soy sauce, dash of thai red chili sauce, and a small gurgle of toasted sesame oil. I like my greens coated, so I am guessing I use three tablespoons of it?
Snacks – Some carrots and three chocolatey (whole grain) cookies … throughout the afternoon.
6:30pm – 2 baked chicken thighs, skin removed (always bake with skin on!), and a cup or so of brown rice with steamed snap peas, 1/2 a large vidalia onion, caramelized with a little olive oil – some Earth Balance stirred into the rice for yumminess.
Evening Snack – One juicy orange
NEWS BITES
Obesity rates rise yet again – Do you think this "epidemic" is merely a lack of activity coupled with poor eating habits, or do you think there is more to it than that?
FDA asks for less antibiotics in meat – This one surprised me, but in a good way. Katie wrote an interesting  post about antibiotics in food this week. Do you have concern for antibiotics when you purchase food? As Katie notes, it isn't just the meat!