Coconut: Controversial and … Cheap?
29 April 2010
14 Comments
Yesterday and the day before I kept myself shuttered up inside with a hot mug of tea on the go at all times. Spring you say? Not here. Inches and inches of fresh snow falling and 50 mph winds that reminded me of the Patagonia. Hmm, I think I will stay inside … and perhaps do a little online shopping? I deserve it, right?
So after dropping way too much money on the spring clothing sales yesterday (I'm really, really hoping those petite yoga pants fit!), I decided to end my shopping spree with some tried and true awesome foodie deals:
Nutiva Extra-Virgin Organic Coconut Oil
2 15-Ouncers for just $10.40 DELIVERED! (only $5.50 per lb)
I have been using this brand for years and it never disappoints. The quality is there and it has a very mild coconut flavor – not enough to impede recipes, but delightful on its own. The price after the almost 50% discount and another 15% off for Subscribe & Save comes out to just $10.40 (delivered!) for 2 jars that are nearly 1 lb each.
The packaging of Nutiva is compact, which is nice, and though I usually prefer glass, I appreciate their plastic and non-breakable container since we have lost our share of fragile coconut oil jars on the tile kitchen floor (um, just a wee bit of a disaster).
Let's Do Organic Unsweetened Shredded Coconut
Okay, technically, I bought this …
Just $1.50 per 8-ounce package!
Love this stuff. The quality is excellent – but at my local grocer, this 8-ounce bag cost $3. After using the subscribe & save on Amazon (remember, you can cancel the subscribe & save at anytime and you still keep the discount and free shipping!), it came out to just $1.50 a bag, delivered!
Note: I have no idea how long these items will be on sale for so cheap. So if you like coconut and coconut oil, I recommend jumping on it!
Obviously, I fall in the "coconut is good" camp, perhaps for biased reasons. I love the stuff. The oil, the "butter," the milk – all such rich and flavorful foods that fill in where dairy cream is no longer allowed.
I use the oil to make margarine-like spreads when the craving strikes …
I also like the hardening power of the oil for firming up no bake goodies like these …
And as you can see, I do occasionally sprinkle some unsweetened coconut in or on recipes. Like the one above and like these mmmmMountain Cowboy Cookies (as I like to call them) …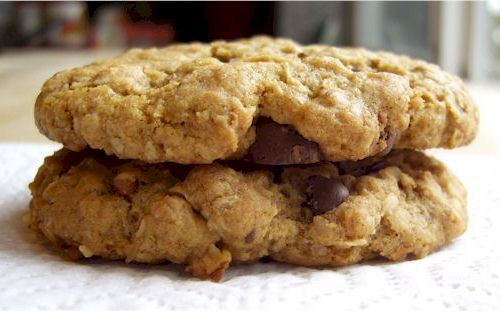 I also find coconut milk to be an awesome dairy substitute when something creamy in order …
And it helps that I love Asian-inspired foods, like Thai …
I wouldn't say that I use coconut everyday, but definitely several times per week in some form or another. But, I'm cheap. Hence why I jump on the deals above.
I'm still trying to find my holy grail for coconut milk (right now I am content with the 365 organic whole fat coconut milk from Whole Foods – it is surprisingly competitive when both price and quality are considered). What are your favorite coconut milk brands? Any suggestions?
So what is your stance on coconut? Good, bad, ugly? I think this is a topic worth discussing further, so I will be gathering some research. Please feel free to share what you have learned (links are welcome) or note if you have a coconut question or concern that you would like answered. I will see what I can find.