The Most Interesting Thing I Ate Today …
27 April 2010
15 Comments
To be clear, I don't miss cheese, I don't crave cheese, I don't think about cheese … in fact, if it weren't for Go Dairy Free, cheese wouldn't even come onto my mental radar. But, in the name of trialing as many dairy substitutes as I can for the viewers, I give vegan cheese a go whenever I come across it and the ingredients don't look too scary.
And once in a while, I like it. Not because it tastes like cheese (some of it kind of does, some of it really doesn't), but because it is simply delicious in its own right. And such was the case for today's snack …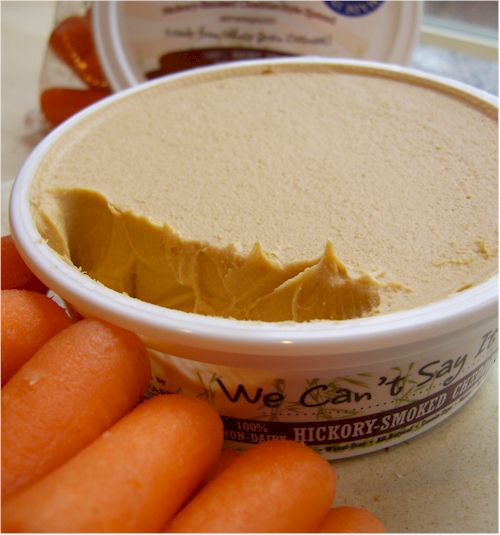 I have been working my way through the We Can't Say It's Cheese line from Wayfare Foods, and wow is it packed with flavor! But today's really got me, Dairy-Free Hickory Smoked Cheese Spread. Seriously, hickory smoked … who thought of that? But it does have a great bacony scent and a nice smoked flavor that made this my favorite of the bunch.
I have some of the hickory smoked and the regular cheese spread left and am trying to think of a few recipes to trial it in. Thus far I have had it slathered on rice cakes (truly a magical combination – seriously) and with the carrots pictured above. I have also made a quick cheese sauce (literally melted it with some unsweetened coconut milk beverage) with the regular version …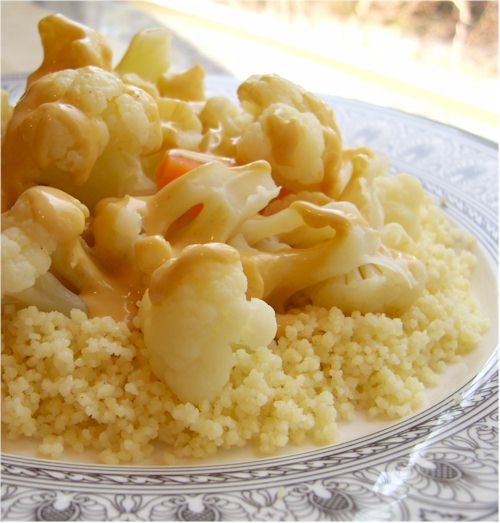 But I want to really see what it does for recipes. It is very much like a soft cream cheese in texture, but with a cheddar flavor. Any general recipe ideas?
Oh, so why am I mentioning this product here? Because not only does it taste good, but the ingredients are also pretty respectable and worth the occasional splurge. Here is the nutritional make-up of the Cheddar-Style Spread (which is dairy-free, soy-free, wheat-free (they don't seem to use certified gluten-free oats) and vegan!) …
Ingredients:
Non-GMO whole grain oatmeal (water, oats), vegetable oil blend (may contain coconut, safflower and olive oil), sesame, pimentos (pimentos, water, citric acid), nutritional yeast, sea salt, calcium carbonate, onion powder, evaporated cane juice.
Nutrition Facts:
Serving size – 2 tbsp. (28g)
Servings per container – 8
Calories per serving – 60
Total fat – 5g (3g saturated, 0g trans fat)
Sodium – 190mg
Total carbohydrate – 3g (1g fiber, 0g sugars)
Protein – 2g
You can buy it online for a fair price (ships throughout the U.S.), and it is actually on sale at Vegan Essentials right now. Since you will be paying for a cold pack and may need upgraded shipping (depending on location), I recommend ordering in multiples – a sampler pack perhaps? I'm hoping it hits store shelves soon.
Next up: Daiya – as soon as I can get to Whole Foods which is a good 45 minute, over-the-9000 ft-mountain-pass, trip away. But, I hear it is worth it and have to way in my opinion. Have any of you trialed it?
Embarrassing Story of the Day: I sent an email to my sister, a personal one, only I accidentally addressed it to someone else (you know when you start typing a name and just hit tab/enter when it pops up with the familiar name – wrong familiar name). And the worst part? It was an employee at a state business agency that I had been emailing about quarterly reports last week. Whoops! This is the second time in one month that I have mis-addressed an email. Does this ever happen to you? No? Just me?
Okay, time to change this embarrassing subject … back to the cheesy stuff …
For more of my recipes and special diet information, see Go Dairy Free: The Guide and Cookbook, and my other two sites, Go Dairy Free and One Frugal Foodie. ~ Alisa