Sunflower Seed Recipe Experiments and the World's Cheapest (and Smallest) Food Processor
25 April 2010
14 Comments
First off, welcome to all new readers and email subscribers! I hope you all enjoy the posts to come, and feel free to send feedback, questions, and comments at any time. And if you haven't yet entered the Amazing Giveaway, head over there now, you have until the end of today (Sunday) enter!
So, when I selected sunflower seeds for this week's BSI (blogger secret ingredient event), little did I know how much trouble I would have in creating my own submission. I admit to some selfish motives for this foodie choice, so perhaps it is karma. I have A TON of raw sunflower seeds on hand because they were so darn cheap, and I need some healthy inspiration to use them up. I was hoping the BSI blogger world might have some delicious ideas (which it looks like they do – stay tuned for the BSI round-up on One Frugal Foodie on Monday).
My first attempt was a salad dressing that wasn't even photo-worthy. It was okay, decent even, but nothing to write home about and certainly not ready to share with the blogosphere.
My second attempt was better, and since I think a lot of you will like this recipe, I am going to share it with you here. You see, one of the star flavors in this recipe is tahini. I like tahini in small quantities for sauces, salad dressings, and of course hummus. But for both Tony (DH) and myself, tahini is just too strong to be the star of the show. I think from now on I will leave those mega-tahini love recipes to HEAB.
Nonetheless, these cookies had great texture and performed quite well, even if the flavor was just "off" to us. I will be experimenting with the recipe more as it makes a great granola-like cookie that has a nice chew. If you are like me, and not a huge fan of tahini, I suggest subbing it with sunflower butter (doh! my local grocer was out), nut butter, or peanut butter. I will be making that change on the next go around for sure.
Seedy Oat Cookies
Recipe adapted a bit from Recipezaar. (I think you will like my directions better, but check out the original recipe for other reviews – this is why I am posting it, I think many people would like this flavor combo better than our little household – plus, you can always use another "butter" as I will in the future).
3/4 Cup Sunflower Seeds
3/4 Cup Honey (I don't see why you couldn't sub agave here if you prefer it)
1/2 Cup Tahini (as mentioned, I would use another nut or seed butter, so feel free to experiment depending on your tastes)
1/2 Teaspoon Salt
2 Cups Quick or Rolled Oats (not instant)
Chocolate Chips, as many as you like (optional, but I recommend – I used these)
Preheat your oven to 300ºF. While the oven is preheating, place the sunflower seeds on your baking sheet and put them in the oven to toast for about 5 minutes while you prep the other ingredients.
In a mixing bowl, stir together the honey, tahini (or other nut /seed butter), and salt. Stir in the oats and now toasted sunflower seeds.
Using wet hands (to prevent sticking), shape the dough into crabcake-like patties (I got about 15 patties) and place on your baking sheet (I line mine with a silpat). They will look something like this, since they don't spread while baking …
Bake the cookies for 13 to 15 minutes. They will start to darken slightly, but will still have a sheen when they are done. The gloss will make them appear wet, but they aren't.
Yields 15 or 16 of these …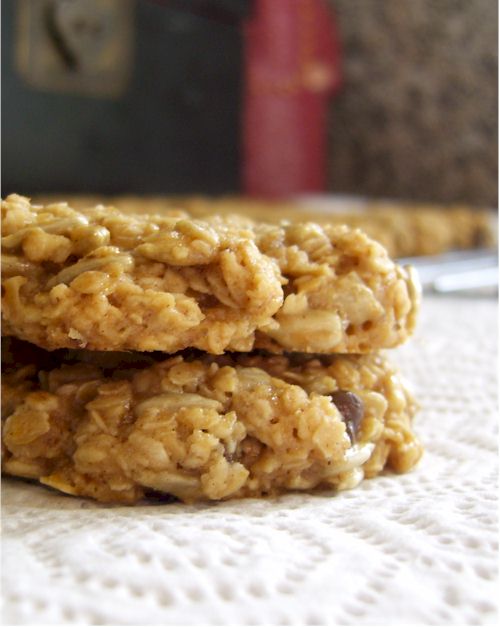 My third attempt was once again, not quite photo-worthy. I had high expectations for an unsweetened frozen banana-sunflower-peanut butter concoction that I had read about on the internet. But alas, it fell flat. And since photographing ice cream-like items isn't the easiest … I will wait until that one has the seal of approval.
My fourth attempt hit my taste buds quite a bit better. I made a sunflower-pecan butter to top rice cakes. The sunflowers were slightly bitter, but the contrasting sweetener (just a bit) and a topping of diced apples brought everything together in my opinion. Anyone else out there a rice cake fan? I love how handy they are and so easy on the stomach – not heavy in the morning.
Slightly Sweet Sunflower-Pecan Butter with Dice Apples
1.5 Ounces Pecans
2 Tablespoons Raw Sunflower Seeds
1 Teaspoon Sweetener of Choice (I used Palm Sugar – use more if you like, I like it just slightly sweet)
1/8 to 1/4 Teaspoon Ground Cinnamon, plus extra for sprinkling
2 Plain Rice Cakes or other "Butter" Medium of Choice
1 Little Apple, diced
Now, if you have a food processor or powerful blender, go ahead and pull that out. If not, you might do what I do, and use what I refer to as my little food processor …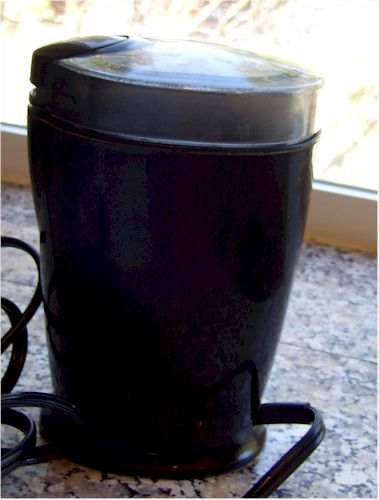 The spice grinder. Yep, it works … it cost me all of $7.99, and I have used it almost every day for about three years now. The more powerful ones are best for making nut butter, and actually, for small batches, these things are kings. In fact, if you are using a full blow food processor, you may need to double the recipe above.
So whir the pecans, sunflower seeds, sweetener (if using a dry sweetener), and cinnamon until you get a nut butter. No matter what machine you are using, you might need to scrape down the sides occasionally. Remove the nut butter and if you are using a wet sweetener (hone, maple syrup, agave, etc.) stir it in now.
Spread nut butter on rice cakes, top with dice apples, sprinkle with a dusting of cinnamon for good measure, and consume with a nice cup of herbal or green tea.
Yields 2 breakfast "cakes"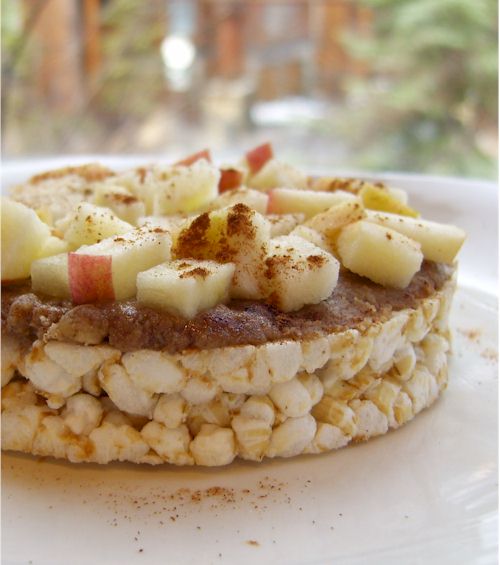 What about you? Any good sunflower recipe ideas? I have one more I am going to try today, wish me luck!
For more of my recipes and special diet information, see Go Dairy Free: The Guide and Cookbook, and my other two sites, Go Dairy Free and One Frugal Foodie. ~ Alisa