Introducing Dairy-Free & Fit …
In 2004 or 2005 (really, I have lost track of time!) I began Go Dairy Free. My goal was not to create an anti-dairy movement, but rather to show people that a dairy-free lifestyle can be delicious, fulfilling, healthy, and feasible. Millions of people have chosen to be dairy-free or dairy-low as I like to call it, whether for lactose intolerance, milk allergies, veganism, acne, disease prevention, or other health, environmental, religious, or ethical reasons. I wanted to help make life for those people (at least the food side of it) fantastic by sharing all of the options available, health needs, recipes, and more.
Go Dairy Free turned into my fulltime job in early 2009, after the release of my book by the same name. At that point, I really hadn't come out from behind the virtual veil. I confess, I am a bit shy, but the Internet was a great way for my to share my research.
I eventually started One Frugal Foodie to share my personal recipes. Go Dairy Free had grown so large that my own recipes were lost among the many contributions. There seemed to be a demand for what I was creating at home, so I decided to dedicated a space just for my work – which is of course dairy-free too. But recipe blogs are a good place to hide out too; no real opinions need to be shared, people are happy with pictures of food instead of people.
I decided that it was time I do more – time to stop hiding behind my work, and share more of what I learn every day. This blog isn't just for fitness junkies (though you are welcome here too). It is for anyone who is interested in feeling good, including moms of food allergic children, busy working men and women, and those embarking on a health journey. I plan to share research on health for discussion, hot nutrition topics, food I am enjoying, fitness tips, and of course, a few recipes from my home here and there. 
I am dairy-free. You can read my story here. But more than that, I am a lover of good food, being healthy, and the capability to take on any activity my husband and I decide to pursue. I am not a gym rat. I have successfully done programs like P90X and you can easily catch me at home with weights in my hands (yes, just like my avatar above), but like many, I work, I sit behind a computer a lot (too much), and I go out to eat. But in the end, this 35 year old body loves to walk, hike, travel, ski, swim in the lake, and play ball in the park with her friends and their little ones.
I am Alisa Fleming. This is my home and I want to enjoy every minute of it …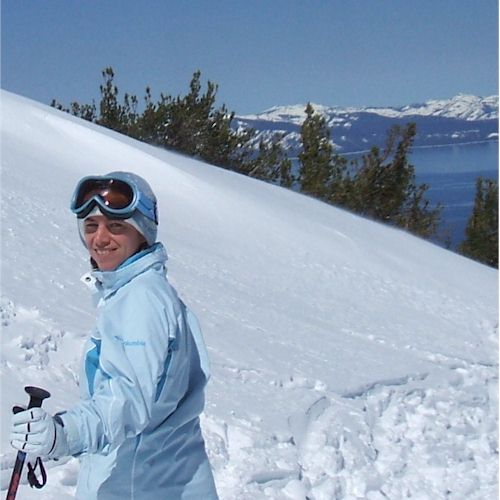 Picture taken April 7, 2010
If you haven't visited Go Dairy Free or One Frugal Foodie yet, head on over, those sites will keep on running! But I hope that you will stay with me here too; I can't wait to share my ideas and here what you have to say!
Ready to Follow? See the email subscription at right to get updates of my new posts on Dairy-Free & Fit, or use the RSS.