Is Milk Alternative Required?
12 November 2010
5 Comments
I frequently receive the question, "Which milk alternative is healthiest?" This is a very loaded question, as it varies based on the range of interpretations of the term "healthy."
Many dieticians claim soymilk is the only milk alternative that compares to milk nutritionally. Others feel that soy is an unhealthy and potentially GMO product that shouldn't be consumed at all (perhaps soy is a good topic for another day!). Some rave of almond milk and feel virtuous in choosing it, while others point to its lower protein and fat and say it's inadequate. Some deal with multiple food allergies and feel rice milk is the only way to go … but then discover hemp milk with it's legendary Omega 3's. Then of course, there are fortified and unfortified versions, all ranging widely in vitamins and minerals. Vitamin D? Yes please. Calcium? Um, maybe. Vitamin A? Well, depends on the type.
Don't get me wrong, I love milk alternatives … and seriously, where would our cereal and oatmeal be without them? But our societal dependence on milk has led us to believe that something thick and creamy must be added to just about everything we make.
When people are concerned about which milk alternative is the healthiest, my first thought is that perhaps they are depending a bit too much on milk alternative (and previously milk) for nutrition. My initial response doesn't usually start with "For the healthiest option, you should go with …" Instead, it goes something like this, "Set the carton aside for a moment, poor a glass of water, and enjoy some fruit and vegetables." Who says you have to replace the calories in milk with calories of milk alternative? As for vitamins and minerals, swap those calories for healthy whole foods, and if you're still worried, pop a dairy-free or vegan multi-vitamin. Really, you can't go wrong. Water is cheap (and sometimes free), and anyone reading this has easy access to it.
But beyond just drinking milk, what about milk or milk alternative in recipes? Once again, water is a very viable option. Just recently I made some vegan muffins. The recipe called for vanilla milk alternative. Why? Perhaps because it adds a little sweetness, a nice vanilla flavor, and a hint of richness. I usually keep just unsweetened milk alternative on hand, and didn't feel like opening a new package. So instead I used an equivalent amount of water and upped the vanilla extract in the recipe just a bit. I wasn't looking for a super-sweet muffin, so I didn't tamper with the sugar amounts, but I easily could have added another tablespoon of sweetener to the recipe to compensate if desired. Might the muffins have been better with the vanilla milk alternative? Perhaps, but these rose perfectly, had a soft interior texture with that wonderful crusty muffin top, and were pretty darn delicious (recipe to be posted on Alisa Cooks soon!) …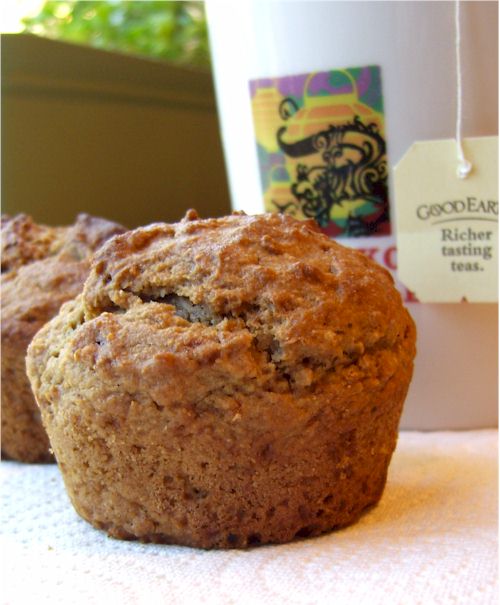 Plus, they were a lower in sugars and calories than the original recipe … leaving more room in my 2nd breakfast of the day for this water-based creaminess …
I confess, that I didn't used to think a smoothie could hold its own without milk alternative. I tried a couple water based concoctions from raw foodists, and nearly gagged. But, with the right ingredients, I'm able to take my favorite beverage from "juice" to rich and spoonable, even with water. The creation above was simple at quite nutritious, as you can see on my recipe post here … or perhaps I should actually call it an un-recipe, since it really is that simple.
So is milk alternative required? In my world, it may not be required, but it is a luxury that I would rather not do without. Over the dairy-free years, I have learned to become less dependent on this creamy beverage (definitely good on the wallet!), particularly for nutrition. But, it does add that extra something in terms of flavor and texture, at least a few times a week.
What's in my milk alternative arsenal? Right now, I'm pretty game on hemp milk and coconut milk beverage. I also make homemade oat milk and cashew milk for recipes (see Go Dairy Free for the recipes I use). Though I do love almond milk, almonds are a no go for my husband, so we stick to the unsweetened coconut, hemp, oat, cashew, and plain old water.