We Interrupt this Blog for Another Whole Foods Sale Announcement …
10 November 2010
One Comment
I received this "Shrimpsgiving" sale alert from the wonderful PR people at Whole Foods this week, and wanted to share it with y'all. Whole Foods is a trek over a (now snowy) mountain for me, so I won't make it there on Friday, but perhaps some of you can take advantage of this dealio …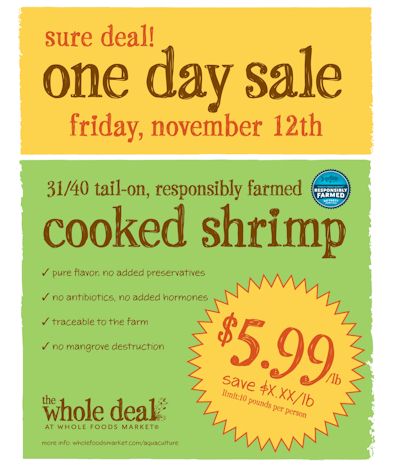 Whole Foods Market has a holiday deal in the seafood department that is sure to make you the host with the most. On Friday, Nov. 12, our stores will be offering medium-sized (31/40), tail-on cooked shrimp for $5.99 – that's half off the everyday price! As with all of our farmed seafood, these shrimp are raised to the highest standards in the industry – ours! This one-day-only sale has a limit of 10 pounds per shopper and is available in the fresh case or in 2-pound bags of individually-frozen shrimp (easy to stock up for instant entertaining or surprise guests). Here are a few more reasons why you'll want to catch our "shrimpsgiving" sale while you can.
Strict farmed seafood standards. Our standards prohibit antibiotics, added growth hormones, preservatives such as sulfites, and poultry and mammalian byproducts in feed. And, all farms must pass a third-party audit to ensure our standards are met. More here: www.wholefoodsmarket.com/products/aquaculture.php 
Raised by one producer with traceability to the farm. The producer meets our standards for protecting the environment by avoiding sensitive mangrove areas and operating a closed-water recycling system to protect water quality and the surrounding ecosystem.
Instant entertaining. These tail-on shrimp make great cocktail dippers or can be easily blended into a shrimp dip and served with crudités.
Meal solutions – Let these tasty shrimp steal the show atop a creamy risotto, garlicky pasta or hearty jambalaya.  With this previously cooked and peeled protein powerhouse, households in a hurry can have a meal in minutes.
Previously frozen immediately after harvest to lock in their mild, sweet flavor.
They also offer some tasty dairy-free recipes for this shrimp on the Whole Foods website, like this Jambalaya or these Spring Rolls. Okay, I cheated slightly by showing you the image for the Shrimp Cocktail with Creamy-Spicy Green Onion Dipping Sauce (the shrimp just looked so perfect in that picture). Buuuuttt, that recipe can easily be made dairy-free by substituting a dairy-free sour cream (there are a few brands on the market now), or by making your own! I offer two sour cream alternative recipes in Go Dairy Free, my favorite of which is the Sour Cashew Creme on p131 (dairy-free, soy-free, and yummy!).