Lightly Sweetened Summer Sippers
16 August 2010
6 Comments
Last week I addressed the topic of healthy beverage alternatives to drinking cow's milk. Milk alternatives, herbal tea, 100% juices, and of course, lots of good old-fashioned water topped the list, but sometimes, especially in summer, I do crave a little something special. We do our best to avoid soda pop and drinks loaded with sugar, but when on vacation or at the store after a long walk, my husband and I sometimes treat ourselves to one of these …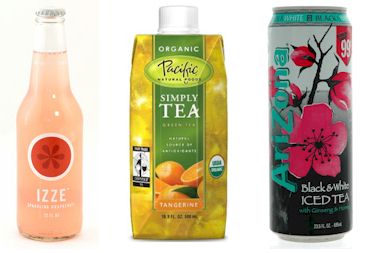 IZZE Sparkling Juices – We happened upon these delicious beverages by chance, when a store was blowing out overstock of the grapefruit version ($.65 for a 4-pack!) during our vacation in Las Vegas. It was 105 degrees out, and let's face it – water was not going to cut it. Our bodies wanted some electrolytes. I think both my husband and I were surprised by how tasty these were; especially considering not a drop of sweetener is added (they really did taste like pop!). Even at full price, I think these are worth the splurge.
Pacific Foods Organic Simply Green Teas – I often buy unsweetened iced teas, but on those extra hot days, these lightly sweetened teas from Pacific hit the spot. I like the green teas, with the Tangerine flavor being my favorite. It isn't overly citrus, and the green tea brew isn't too harsh. It also comes in Peach, Wild Berry, and Kiwi Mango, In general, I thought all flavors (and the unsweetened variety) of the Simply Green Teas were good. However, I didn't like the Simply Mates. I find mate tea to be way too harsh and bitter for my taste buds. If you like mate tea, then you will probably like these teas. They come in Traditional (is sweetened a bit), Lemon Ginger, Citrus Lychee, and Peach Passion Flavors. All of the Pacific Iced Teas are lightly sweetened with organic evaporated cane juice and are about 70 calories for the whole 16 fl oz package.
Arizona Black and White Iced Tea – My husband has been working for a while to kick his Pepsi cravings, banish high fructose corn syrup from his diet, and cut back his sugar intake at least a little. So when thirst strikes, we are running about, and water isn't going to cut it, this is his go-to for value, taste, and ingredients. Almost all of the Arizona Iced Tea products are made with high fructose corn syrup, but this one flavor is not. It is sweetened with regular sugar, and not too much of it. You can get the jumbo can for just $.99 at most convenience and grocery stores, and the whole thing (24 fl oz) will only set you back 150 calories. My husband actually loves that it isn't as sweet as most store-bought brands of iced tea.
When you're craving that something extra, what drinks do you turn to? Do you have store-bought splurges or back-ups, or do you stick with homemade?