What to Drink Without Milk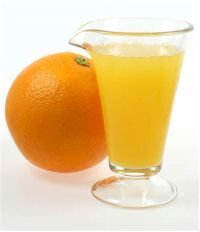 In my inbox today was an article from Team Beachbody entitled, "9 Foods Not to Give Your Kids." Without even reading the article, I headed straight here to type.
Something deeply disturbed me at a restaurant recently. You know those very large thick plastic cups (maybe 32 oz?) that they serve bottomless pop in? (yes, I know, soda for California!) We watched the most obese child I have ever seen (probably about 7 or 8 years old) downing several of these, but that wasn't the worst part. His little sister, who couldn't have been more than 2 years old, drank four entire cups of Coca Cola in these. Four 32-ouncers! At first I was shocked to see someone feeding pop to what looked like a child barely past infancy, but then seeing her 32-ouncer being refilled three times!
But putting the article and my memory together reminded me of the dairy council studies that basically state kids who don't drink milk eat less healthfully. In some cases this is true, for kids and adults. I have spoken to many people who replaced their daily glasses of milk with pop and sugary juices. In this case … yes, you are adding sugars to your diet and replacing nutrients with empty calories. But there are certainly healthy ways to make the switch …
Water – Hands down the winner for hydration. Want some excitement? Go for sparkling mineral water. I'm a Pellegrino girl myself (now sold in personal-size for on the go many places), but taste test and find which type of bubbles suit you best. A great sub when you are craving carbonation. Also, since water is calorie-free, it leaves more room in your diet to add healthful foods for more nutrients.
Tea – Iced or hot, but try to keep it unsweetened, or sweeten wisely. These days many herbal teas are so packed with flavor that you won't feel much need for any additives. And yes, kids often like it too! One of my new favorites for flavor cravings on cool days is the Sweet & Spicy Herbal tea from Good Earth. Again, tea is a great no calorie option (you can even add a teaspoon of sweetener for a good low calorie option) leaving plenty of room for more nutrients in your diet.
100% or Fresh Squeezed Juice – For those not frightened off by fructose, fresh squeezed juice is a great option. If you are short on time and the little ones want something sweet, at least opt for 100% juice with no added sweeteners. To further lighten it and make a pop-like treat, mix half juice with half mineral water. A wonderful refresher! My latest love – half 100% pomegranate juice and half mineral water – this also helps a more expensive juice last much longer!
Unsweetened Milk Alternatives – I 0ften here the complaint that milk alternatives are too sweet … that is because many "original" and "vanilla" versions have sweetener added. Usually it is a natural sweetener, but sugar nonetheless. Almost every brand has an unsweetened version now, so choose one of those if you prefer a very low carb option.
For healthy fats and a wee bit of protein, I like hemp milks (but they do have a stronger taste than most) and coconut milk beverage (it has a nice rich whole milk feel and isn't strong in flavor). Children seem to take to rice milk quite a bit. It tends to be naturally sweet even without sugar added, and is usually made with brown rice, but still go easy on it as rice milk doesn't usually add much nutritional value to the diet. In terms of taste, I also like almond milk, but the flavor is often a little nutty for kids. If you aren't against soy, soymilk is usually the highest protein option, and I have heard good results in terms of kids taking to it.
Most brands of milk alternative are fortified to rival milk in vitamins and minerals. However, the amounts of vitamins and minerals per serving can vary widely by brand – check the label if this is a concern for you. Also, if your child has trialed a couple brands of milk alternative and didn't like them, don't give up! There are literally dozens upon dozens of brands out there and all taste at least a little different.
There are many new beverages popping up in stores like Whole Foods that have a healthy claim. Some might warrant the occasional splurge, but keep an eye on the labels as most are still quite high in sugars. To give you a point of reference, nonfat to lowfat milk has 12 to 13g of sugar per cup. Yes, milk is not sugar-free! If the unsweetened milk alternatives, tea, and water options work for you and your family, you will actually be getting a lot less sugar in your diets!
What are your favorite dairy-free beverages? Any other suggestions for adults or kids?