Holy Crap, Insanity Works! My Fit Test Results …
So here I am, two weeks down, and I just finished my second Insanity Fit Test (the first being the "baseline" that you do before you start the program), and I am seriously impressed. Is this P90X? No, it's a totally different animal (more on that later). Do I still like P90X? Tony, have no fear, I am a Horton loyalist. But, has Shaun T finally won me over with his Insanity? Maybe, just maybe.
(photo blatantly stolen from one of Katie's Insanity posts)
I still think Insanity has its downfalls, and I will detail my personal pros and cons later, but I have to admit that I am already seeing results! Here are my Fit Test results:
How it's Done – You do each exercise for 1 minute, and record how many of the exercise you finish during that time. There is a break between each exercise to recover and record your results.
Day 1:
Switch Kicks – 110
Power Jacks – 49
Power Knees – 68
Power Jumps – 28
Globe Jumps – 7
Suicide Jumps – 15
Push-Up Jacks – 23
Low Plank Oblique – 47
Notes: I had to pause the tape twice during the break time in the fit test as I was feeling really pukie. I may have paused each time for a minute, maybe five, I don't know. Afterward I had to lay down on the couch for fifteen because I felt so ill. Not my brightest fitness moment.
Day 15:
Switch Kicks – 126
Power Jacks – 59
Power Knees – 81
Power Jumps – 51
Globe Jumps – 12
Suicide Jumps – 18
Push-Up Jacks – 28
Low Plank Oblique – 67
Notes: I only paused the tape once, just for 15 seconds during a break, because my hair kept falling out from all of the bouncing! I made it through, exhausted, but I made it through, and really focused on my form – no cheating! I felt a slight illness in my stomach at the end, but nothing like before – I kept on with my day.
I actually covered up my Day 1 Fit Test numbers while doing Day 15, because I didn't want to compete with my old numbers or slack off once I "just beat them." I wanted to do my best. Boy was I surprised when I lifted the paper and I had improved in every single move! Not to mention, I even beat Turbo Tanya (as I call her) on some of them, and she was on day 60! Not that I am competitive or anything.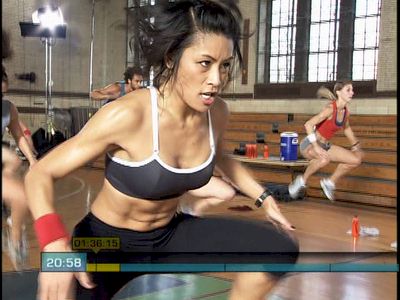 (Yes, another theft from Katie's pics, but I had to show you why I call her Turbo Tanya! And Katie just knows how to capture the moment)
I am assuming that these will be my biggest number gains, since there was so much room to improve in the first two weeks, but I hope to see continued improvement.
Personal Challenges and Gains:
Altitude – No matter how long I live at 6500 feet (nor during the 7 years I lived at 7000 feet), I do not fully aclimate. I'm not sure why, but the altitude always makes me wheeze no matter how much fitness I do. However, I have noticed a marked improvement in my lung capacity and aclimation since starting Insanity. I would venture to say it is the biggest improvement I have ever had.
Injuries – If you have lingering issues, pulled muscles, or joint issues, consider another program. That said, I have had knee surgery and numerous injuries (that linger) and I am still going. I did think during the first week that I might not make it through due to knee pain and stiffness in my bad knee. It subsided quickly, but I am still proceeding cautiously, and will quit the program if it looks like I am going to risk further issues with my knee.
Physical – I'm not on a weight loss mission, but would like to "firm up" about 5 pounds and streamline my muscular legs. I am already seeing and feeling a bit of a difference, but will do a full update after the program.
Have you done, are you doing Insanity? Are there any workout videos you do or don't love?