Un-Beetable Sugar-Free Smoothie
Yes, even when the ground has a fresh layer of snow, and the thermometer is stuck on 28º (that is farenheit people, not celcius – wouldn't it be nice), I still like waking up with a cool breakfast smoothie … followed of course by a hot tea chaser!
The last two mornings I have been experimenting with beets in my smoothies, thanks to Ricki's inspiration. I tried at first to get all fancy with the ingredients. Beets, berries, romaine, and a host of healthy add-ins. In all honesty, it was okay, but it looked better than it tasted …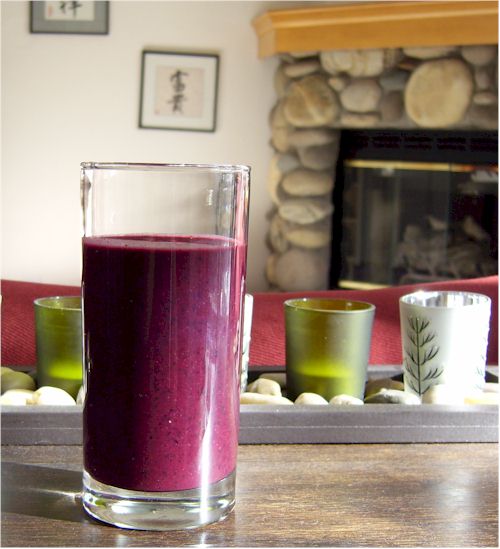 (oh my, I didn't notice until just now that one of the pictures on the wall is crooked!)
So then, I just went back to basics. I should have known my trusty morning banana would be the solution to the perfect wake-up call. My camera was unable to capture the very cool and truly neon-pink color of this beverage. Trust me, it looks and tastes SO good …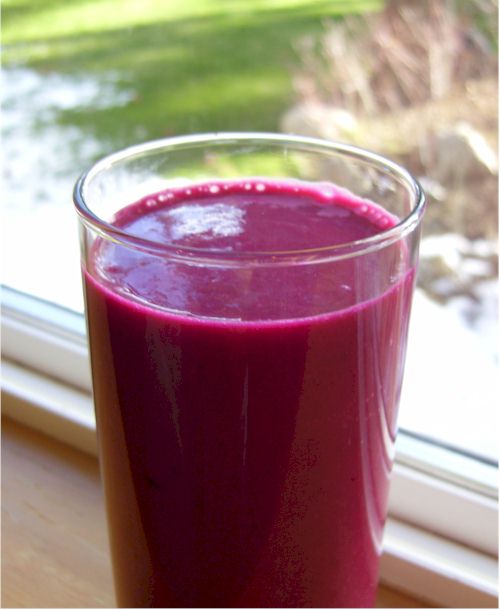 Why eat beets? Aside from the taste, the Worlds Healthiest Foods has this to say about them:
"These colorful root vegetables contain powerful nutrient compounds that help protect against heart disease, birth defects and certain cancers, especially colon cancer."
and this:
"Beets are an excellent source of the B vitamin, folate, and a very good source of manganese and potassium. Beets are a good source of dietary fiber, vitamin C, magnesium, iron, copper and phosphorus."
Combined with the other ingredients, this is dare I say, a delicious Superfood Smoothie!
Un-Beetable Smoothie
I was experimenting with Navitas Pomegranate Power, and I can say it went really well in this smoothie. It adds a tangy sweetness that is delightful. If you don't have it, try Amazing Grass Berry Superfood, or another berry-inspired powder (protein perhaps?) if you can get your oven mitts on some.
This is one of those great "free-from" foods – no dairy, eggs, sugar, nuts, gluten, etc. – and consequently vegan!
1 Medium-Sized Roasted Beet (see easy roasting instructions below)
1 Medium to Large Banana, broken into chunks and frozen
1/2 to 1 Cup Unsweetened Milk Alternative (I used almond milk, and went on the lesser side of the liquid because I like my smoothies spoonable)
1 Tablespoon Pomegranate Power, Amazing Grass Berry Superfood, Goji Powder, or other berry-like add-in of your choice
1 Tablespoon Ground Flaxseed
Optional Add-ins: I just used the ingredients above, but you could also toss in a tablespoon or two of your favorite protein powder, some spinach (can't taste it!), and/or a little sweetener if this beverage isn't sweet enough for you (it hit my taste buds just right).
Toss all ingredients in your blender, and blend until smooth. For less powerful blenders, add the roasted beet first (the softer texture will allow your blender to get moving before it hits the frozen stuff).
Yields 1 serving
Easy Roasting Beets for Recipes
I trialed a few different methods, but this one was just perfect. No added fats, and you can roast up a whole bunch to have on hand for salads, smoothies, or even to puree for your baking. Dang, now I want to go buy some more beets!
Preheat your oven to 375ºF.
Cut off the beet stems and leaves, saving them for another use if you wish. Give the beets a washing, but leave the skins on.
Wrap each beet (individually) in tinfoil. Bake/roast for 60 to 90 minutes (depending on the size of your beets – I did 75 for medium-sized beets).
Remove from the oven, but leave them in the tinfoil for a while (no peeking!). I opened one to check for doneness and left it open and the skins were terribly hard to peel off. I actually forgot about the others until about 3 hours later. They were still warm when I opened the packets, and the skins slipped right off. Viola! Fat-free, peeled, roasted beets – recipe ready!
Okay, this isn't the prettiest pic, but much closer in real life to the vibrant color of that smoothie …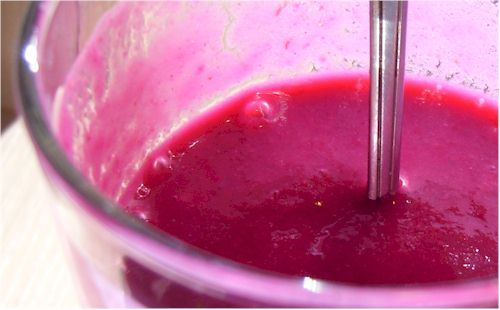 Beets are available year 'round, but it seems we are just entering into peak beet season, which runs from June through October.
See my No Waste Beets for an idea on how to use the leaves and stems too!
Do you have any fabulous beet recipes? Please do tell and feel free to share a link!
Do you find smoothies to be easier on the stomach in the morning or do you prefer them in the afternoon?