Herbal Goodness on My Tea Shelf
1 February 2011
8 Comments
Tea flows by the pot-full in our household, so it was quite pathetic that I didn't even own a tea diffuser. They only cost about $3, so I had no excuse. Even so, it wasn't until my husband accidentally broke our tea pot (now that sounds silly, who would ever break a teapot on purpose?), that I finally gained the ability to brew loose leaf tea at home. For just $10 we spotted a highly functional replacement teapot at World Market that just happened to come with a cute diffuser too. Sold!
To inaugurate our wonderful new teapot, I broke open some loose leaf tea from My Tea Shelf that I had been dying to try (yes, I had loose leaf tea before I had a diffuser – I'm a little confused that way). They sent me this cute gift package of herbal goodies ages ago …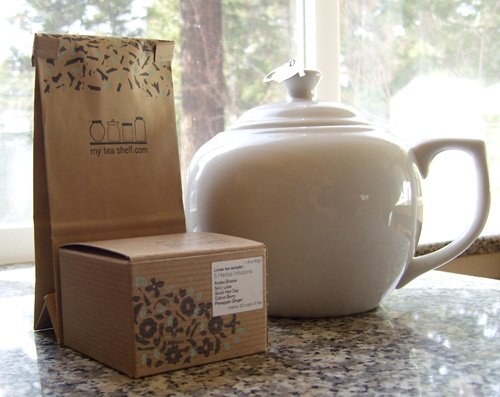 The quality of this tea is amazing, and the story behind it is even better. I just have to share the following paragraph from the "About Us" section on My Tea Shelf:
"I'm a one-woman business with a mission – I want to give the world great tea. Based in Seattle, My Tea Shelf specializes in creating wholesome, high quality teas. That's why I research every ingredient I put in my teas. I stamp every package I send. And I drink every tea I make. Made with real fruit and herbs, I focus on exotic teas from my Latin American background. By combining pure ingredients with medicinal herbs what you get are teas that do a body good. Almost all my herbs and teas are organic, many are fair trade and all the bags I use are compostable. You won't find artificial flavors or packaging that could hurt the Earth anywhere near My Tea Shelf."
Her belief is that tea is "one of life's great treasures," and I couldn't agree more. Seriously, having a hot mug of tea puts a smile on my face no matter my mood.
My Tea Shelf has loads of different types of teas (seriously, where does this woman keep them all??), including various blacks, greens, whites, and my tonic of choice, herbals.
I only drink herbal tea … okay, the occasional white or green tea crosses my lips in the a.m., but I've never tolerated caffeine very well. Fortunately, with so many awesome flavors to choose from, there is no shortage of excitement in the herbal tea world …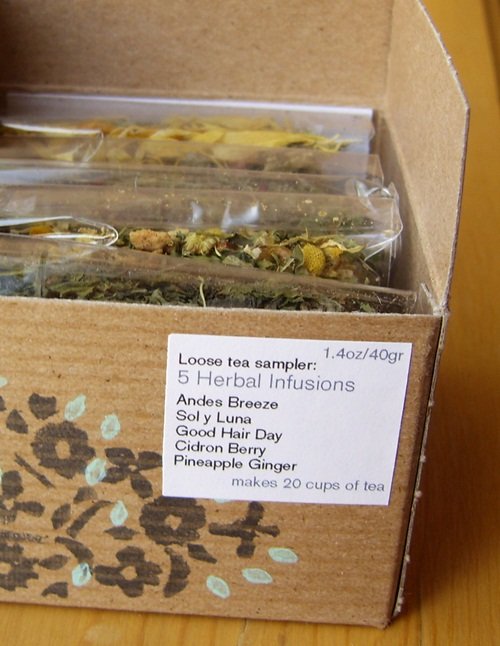 I trialed six flavors, all were good, but three had the "wow" factor for me:
Tea Love #1 – The Honeypeach tea was scrumptious. I tried honeybush tea for the first time at a little organic eatery in town, and it was love at first sip. However, I was still hesitant on this flavor, since I'm not typically a fan of fruity teas. Fortunately, the peach was more like a wonderful essence than an overpowering fruit, and it complimented the honeybush flavor perfectly. It seems honeybush is similar to rooibos, and it is known for its soothing properties and ability to calm the central nervous system. I think I better order this tea by the pound.
Tea Love #2 – I'm a huge fan of ginger tea (the more potent the better!), but the Pineapple Ginger tea from My Tea Shelf was unlike any I had ever tasted. The sweet citrus lends a more delicate note to the spicy ginger, yet neither dominates the scene. It was simply harmonious and a nice change of pace.
Tea Love #3 – Wait, did I say I typically dislike fruity teas? Well here we are on favorite tea #3, and yes, all of my favorites contain some fruit! And while berry tea is usually my least favorite of all, the Cidron Berry from My Tea Shelf is positively delightful. It contains only a touch of berry goodness to brighten the overall blend. Most berry-flavored teas seem to taste just like that, flavored, and intensely so. This, my friends, is a tea, and a near perfect one at that.
Since My Tea Shelf has free shipping over $35 (for both the U.S. & Canada! Yes, free shipping is the magic term for this online shopping diva), I plan to give some more of their teas a try … the Peaceful Persimmon and Ginger Rooibos being tops on my list.
Though I have cut way back on doing reviews, I do want to let you all know when something great comes along … and this was one I felt the need to share.
Do you drink tea? If so, what types? Are you in it just for the health benefits, or are you simply a mad tea drinker like me?